The Joomla Lifeline program will secure your site, deliver return on your investment and prepare you for the next generation of Joomla.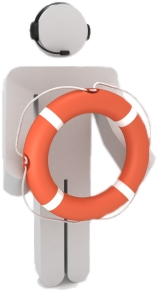 We understand the challenges of keeping your web technologies curent and in sysnc with what is afordable for your business. We know that when you invest in a new portal or upgrade an existing system that you want to make sure you get the best value and lifeline from this investment.
We are aware that businesses depend on their websites to connect with their customers and that it can be your lifeline to success and even survival.
This is why we have developed this unique program talored to your needs and circumstances. We evaluate where you are and where you want to go. From this we develop a strategic plan that will best meet your budget and expectations.
We will cover a step by step process for determining all of the decisions you are going to need to consider in the process.
The best part is that we will do an assessment for FREE and prepare a simple proposal outlining all of the things we can do to improve your online tools and presense. All at a price you can afford.
Call NOW for more information on how you can get an extended lifeline and redesign for your Joomla CMS

Get Joomla Secured Hosting & Quality Tecnical Services

For Faster Service Please Call

508-644-1553