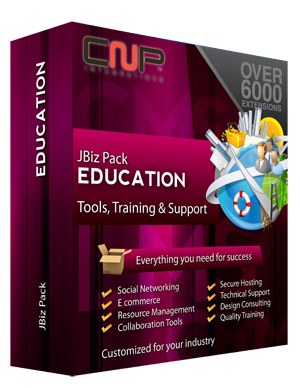 Joomla Education Solutions
Educational institutions are adopting the next generation of web technology and are leveraging the power of the Joomla! CMS to meet the challenges of building accessible communities and providing effective communication.
Numerous educational institutions worldwide have adopted Joomla as their content management platform of choice. CNP Integrations offers the technical expertise, training and security to maximize a successful return on your investment.
Seeone of our Joomla LMS partner's website for inspiring examples of Joomla being used to create websites for educational institutions: http://www.joomlalms.com/joomlalms-showcase.html CNP Integrations works with many Learning Management Systems for Joomla CMS to help you get the right solution for your Learning Management needs and the dynamics of your organization.
Put the power, dependability, and security of Joomla behind your Education, Training or Learning Management website.

Get More Information about our Education Services for Joomla
For Faster Service Please Call 508-644-1553