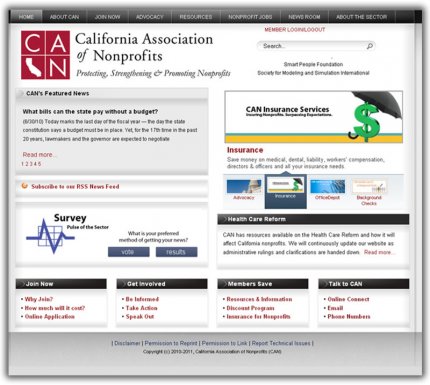 Managing your web presence as a non-profit brings up a lot of questions. There are numerous factors to take into consideration including membership-access, e-commerce, calendar-management, SEO, security, mailing-lists, donation-collection, blogging, image-galleries, documentation, and the list goes on.
If you're planning on building a site for your non-profit, you should consider the Content Management System [CMS] thousands of government services use, Joomla!
Joomla development is the 'middle-path' for open-source CMS's. It balances the construction of powerful web applications with a clean and simple way to put it together. Every one of the questions I brought up earlier can be built right into Joomla through their simple to navigate Joomla extensions directory.
The big 3 CMS's went head to head at SXSW in a competition building a community oriented website. Joomla really shined in every category.
Image taken from CMSWIRE.com article SXSW Web Content Management System Showdown (Update 2)
Joomla web development is an exciting experience. You'll get this when you team up with a Joomla expert. While anyone can manage Joomla, to fully realize the potential of one of the most popular CMS's on the planet, you'll want to team up with a Joomla development company.
Working with a respectable Joomla website development firm enables you to see your vision realized faster, more polished, and far less expensive than than a ground up solution with a custom Content Management System.
Now, how long is your site going to still function in the ever-changing web landscape? Its one thing to have a beautiful website built, but things change, and they change fast. Will your site hold up when all of the browsers are updated next quarter? Will everything still work? Sure, Joomla makes it easy to keep you content updated, adding new user's to help work on and utilize site, but then Internet Explorer drops an update and things start acting funny.
This is where a Joomla Web Developer comes in handy. They are tied into internet trends, a very large and supportive community of people all going through the same challenges, and know how to keep their finger on the pulse of the web. Partnering with Joomla web developers is an intelligent way to stay in front of inevitable shifts in the web to keep your site current, secure and functional.
So, when thinking about how you're going to tackle the question of how to build and manage your non profit website, think about Joomla, and how many other groups just like yours are benefiting from it.